𝐂𝐨𝐧𝐟𝐥𝐮𝐞𝐧𝐜𝐞 – 𝐁𝐫𝐢𝐧𝐠𝐢𝐧𝐠 𝐨𝐮𝐫 𝐩𝐫𝐨𝐝𝐮𝐜𝐭𝐬 𝐚𝐧𝐝 𝐬𝐞𝐫𝐯𝐢𝐜𝐞𝐬 𝐭𝐨𝐠𝐞𝐭𝐡𝐞𝐫 𝐟𝐨𝐫 𝐚 𝐠𝐫𝐞𝐚𝐭 𝐫𝐞𝐬𝐮𝐥𝐭.
This is a lovely installation, showcasing our 𝐅𝐥𝐨𝐜 𝐁𝐨𝐱™ in action. It demonstrates how our 40+ years' experience in the Earthmoving and Erosion Control Industry has imbued us with the expertise to achieve quality results for our customers by marrying top-shelf products with world-class know-how.   
𝐓𝐡𝐞 𝐒𝐞𝐫𝐯𝐢𝐜𝐞𝐬:
– A 𝐂𝐡𝐞𝐦𝐢𝐜𝐚𝐥 𝐓𝐫𝐞𝐚𝐭𝐦𝐞𝐧𝐭 𝐌𝐚𝐧𝐚𝐠𝐞𝐦𝐞𝐧𝐭 𝐏𝐥𝐚𝐧 (𝐂𝐓𝐌𝐏) tailor-made to suit the site (don't forget, we offer 𝐟𝐫𝐞𝐞 𝐛𝐞𝐧𝐜𝐡 𝐭𝐞𝐬𝐭𝐢𝐧𝐠 for your project's duration if you source the CTMP and chemical through Erosion Control Co Limited)
– 𝐄𝐱𝐩𝐞𝐫𝐭 𝐬𝐞𝐭𝐮𝐩 𝐚𝐧𝐝 𝐟𝐢𝐥𝐥𝐢𝐧𝐠 for the 𝐅𝐥𝐨𝐜 𝐁𝐨𝐱𝐞𝐬™ according to the CTMP to exactly replicate conditions around the SRP /DEB
𝐓𝐡𝐞 𝐏𝐫𝐨𝐝𝐮𝐜𝐭𝐬:
– 𝐅𝐥𝐨𝐜 𝐁𝐨𝐱™ – our award-winning in-house R&D developed flocculation solution
– 𝐂𝐡𝐞𝐦𝐢𝐜𝐚𝐥 – Erosion Control supply a range of products for coagulation and flocculation of suspended solids.
𝐇𝐨𝐰 𝐝𝐨 𝐰𝐞 𝐤𝐧𝐨𝐰 𝐢𝐭'𝐬 𝐰𝐨𝐫𝐤𝐢𝐧𝐠?
Just check out the water quality difference between the forebay (dirty) and the pond itself (clean). The 𝐅𝐥𝐨𝐜 𝐁𝐨𝐱𝐞𝐬™ emulate the surrounding conditions to dictate the exact chemical dosage that needs to be administered in the SRP/DEB. The results speak for themselves – 𝐭𝐡𝐞𝐲 𝐠𝐨𝐭 𝐢𝐭 𝐬𝐩𝐨𝐭 𝐨𝐧!
Download the 𝐅𝐥𝐨𝐜 𝐁𝐨𝐱™ brochure here.
Erosion Control Co Limited – 𝐄𝐱𝐩𝐞𝐫𝐭 𝐚𝐭 𝐦𝐚𝐭𝐜𝐡𝐢𝐧𝐠 𝐭𝐨𝐩-𝐪𝐮𝐚𝐥𝐢𝐭𝐲 𝐩𝐫𝐨𝐝𝐮𝐜𝐭 𝐰𝐢𝐭𝐡 𝐡𝐢𝐠𝐡𝐥𝐲-𝐬𝐩𝐞𝐜𝐢𝐚𝐥𝐢𝐬𝐞𝐝 𝐬𝐞𝐫𝐯𝐢𝐜𝐞𝐬 𝐭𝐨 𝐝𝐞𝐥𝐢𝐯𝐞𝐫 𝐭𝐫𝐮𝐥𝐲 𝐫𝐞𝐥𝐢𝐚𝐛𝐥𝐞 𝐫𝐞𝐬𝐮𝐥𝐭𝐬.
For more information on our full range of products and services please visit our website here or pick up the phone and call our Sales Manager, Wes Lawrence, right now on 027 487 5929 or email [email protected]
𝐀𝐍𝐃 𝐏𝐋𝐄𝐀𝐒𝐄 𝐒𝐓𝐀𝐘 𝐒𝐀𝐅𝐄 𝐎𝐔𝐓 𝐓𝐇𝐄𝐑𝐄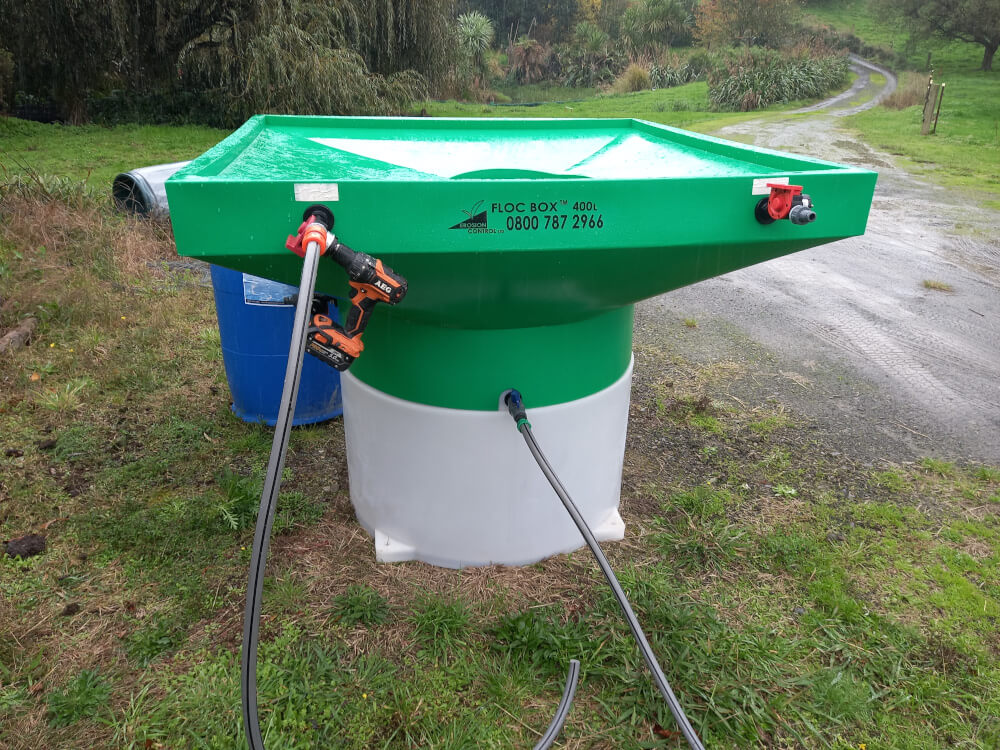 Get in touch
Drop Wes a line or call to see how we can help you with your project.
171 Postman Road, Dairy Flat, Auckland
027 487 5929