The

Floc Box™ – A Pioneering Innovation
This is the first of three articles showcasing our flagship trademarked products, each of them a testament to Erosion Control Co Limited's pioneering attitude and commitment to ongoing innovation during our 40+ years in the Earth Moving Industry.
We'll start with the 
Floc Box™
, winner of the 2016 IECA award for Excellence in Innovation, Contribution and Education to the Sediment and Erosion Control Industry. We've installed thousands of these throughout New Zealand and Australia, making our Floc Box™ the predominant methodology for the treatment of sediment-laden runoff. Here are some of its major advantages:
Floc Box™ replicates the exact principals of the GD05 and TP90 rainfall activated sheds to chemically dose SRPs and DEBs

Made from high quality medium density polyethylene with a high spec UV package

Ranging between 27kg and 85kg excluding chemical, Floc Box™ is highly portable and easily moved around site

Floc Box™ units are available in 75L (27kg), 200L (50kg) and 400L (85kg) sizes, giving the flexibility to service sites from as small as 0.04ha right up to 8.8ha

Polycarbonate displacement sheets, site-specific pre-drilled header tank holes and caps, access bungs, 20mm (outlet) and 18mm hose fittings for the chemical refill, all contribute towards simple setup, adjustment, and ongoing maintenance

Adjustable tray allows for simple setting and adjustment of chemical dose rate

The catchment tray and header tank of the 75L and 200L units sit below 1.2m high allowing easy access for maintenance, routine checks and alterations

Easy setup and maintenance with our new drill pump setup
And if you'd rather keep your own time free to focus on the bigger project picture, Erosion Control provides a one-stop shop for our customers' needs. We will create a Chemical Treatment Management Plan (CTMP) for your site, fully set up and implement your Floc Box™ and provide ongoing support and advice for the lifetime of your project. In fact, we are currently offering free Bench Testing for the duration of your project if you have sourced your CTMP through Erosion Control and are using our chemical on your site. But if you'd like to keep your hand in, we can also fully train customers in the operation, maintenance and reporting of the Floc Box. 
For the complete specifications on Erosion Control's award-winning Floc Box™ download the brochure here or view our complete product and services range at https://erosioncontrol.co.nz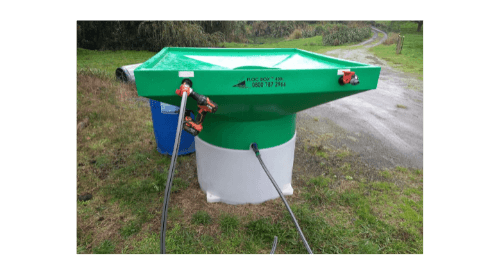 Get in touch
Drop Wes a line or call to see how we can help you with your project.
171 Postman Road, Dairy Flat, Auckland
027 487 5929